Prof. Ursula Hartig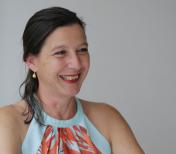 Prof. Ursula Hartig
Fakultät 01 Architektur
Karlstrasse 6
80333
AIMS AND EXPECTATIONS
In cooperation with an international consortium, I am developing this dbXchange data-platform, as a long needed tool for knowledge exchange and collaboration.
Convinced about the great value of the academic DesignBuild methodology I am running DesignBuild studios since almost 20 years, mainly with clients in countries of the global south. The great value of this projects can be seen, asking the students about their experience and professional develpment, visiting the former clients and observing the incremental of excellent multidisciplinary and intercultural DesignBuild projects, forming a global trend in Higher Education.
SHORT CV
Hartig holds a Master in Architecture (Diplom Ingenieur) from the Technische Universität Berlin. Since 2017 she is chair of "Planing and Construction in a Global Context" at the Hochschule München in Germany. From 2014-2016 she was research fellow at the Department of Architecture, TU Berlin and founder of CoCoon, a sector for intercultural and interdisciplinary teaching, research and practice in the field of build environment.
Since 2000 she has been project manager and director of TU Berlin's DesignBuild Studios including planning, realisation and documentation of buildings and environments in Mexico and Afghanistan.
Since 1987 she worked as collaborator and project manager in different Architecture offices in Berlin.
She initiates and directs the research-consortium European DesignBuild Knowledge Network in cooperation with the habitat unit, developing the dbXchange.eu web-platform.
PROJECTS
CONTACT
facts
GEOGRAPHICAL REGION OF WORK
Mexico, Ecuador, Afghanistan, Germany
Close
KEY WORDS
teaching I research I planing I designbuild projects I project management I earthern architecture I adobe I vernacular buildings
Close
EXPERTISE
Construction Methods/Techniques
Languages
German I English I Spanish I French I Italian (basic)
Close
Role in dbXchange Network: