Prof. Dr. Ted Cavanagh

Prof. Dr. Ted Cavanagh
Halifax, Nova Scotia, Canada B3H 4R2
6135 University Ave
3177 HalifaxNS
SHORT CV
BSc, BArch (McGill), PhD in History of Technology (Lehigh)
Ted entered teaching from his own award-winning practice 25 years ago and continues to focus on architectural design. After an interval to complete his doctorate in the history of technology, his design work has continuously appeared in international architectural magazines such as AD: Architectural Design, a children's theatre for the coastal community of Cheticamp in Journal of Architectural Education, and a lamella-vaulted dining shelter in Canadian Architect. His work has been published in Metropolis, Architectural Review, Progressive Architecture, OnSite and a number of times in Canadian Architect.
Currently he and his students build innovative structures for Nova Scotia communities such as the twenty-meter long, six-meter diameter lamella vault for Ross Creek Arts Centre and the brick shell camera obscura overlooking a tidal salt marsh in Cheverie. Supported by over one million dollars worth of grants, his research aims to contribute to rural development by introducing new ways of building into the local economy.
PROJECTS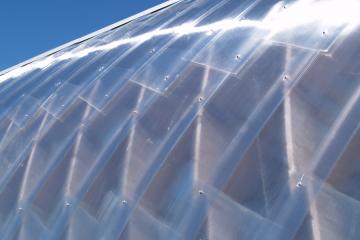 facts