Primary tabs
Dipl. Ing. Architect Victoria von Gaudecker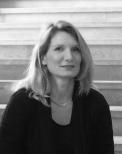 Dipl. Ing. Architect Victoria von Gaudecker
SHORT CV
Victoria von Gaudecker has been studying architecture at the Bauhaus University in Weimar, the Politecnico in Milano, Italy and the Virginia Tech University in Alexandria, USA. In 1997 she graduated at the Bauhaus University Weimar, in the very same year Victoria founded her own architectural firm. From 2000 to 2005 she was working as project manager for the atelier of Adolf Krischanitz in Vienna, Austria. During her engagement she was responsible for various projects in urban planning and architecture. Together with Katharina Leuschner Victoria founded the Munich-based architectural office Leuschner von Gaudecker Architekten in 2005. The work of the office is characterized by a very specific approach in search of precise volumes, moods and atmospheres, which led to the nomination for the young talents award of the City of Munich in 2014.
Victoria has been teaching at the institute for public building and design of Prof. Arno Lederer at the University of Stuttgart from 2005 to 2014. In the past years, her teaching focus was on design-built projects in Africa and Peru engaging with vernacular architecture and pursuing a social and ecological approach. She was a project manager of the design build projects "ukuqala2, ukuqala3" in South Africa, "Stuttgart,super green", "Schoolhouse" in Uganda and "atsipatari" in Peru at the IÖB - University of Stuttgart
Since 2014 Victoria is teaching in the Core Module "Sustainable Architecture" of the IUSD at the University of Stuttgart.
PROJECTS
facts